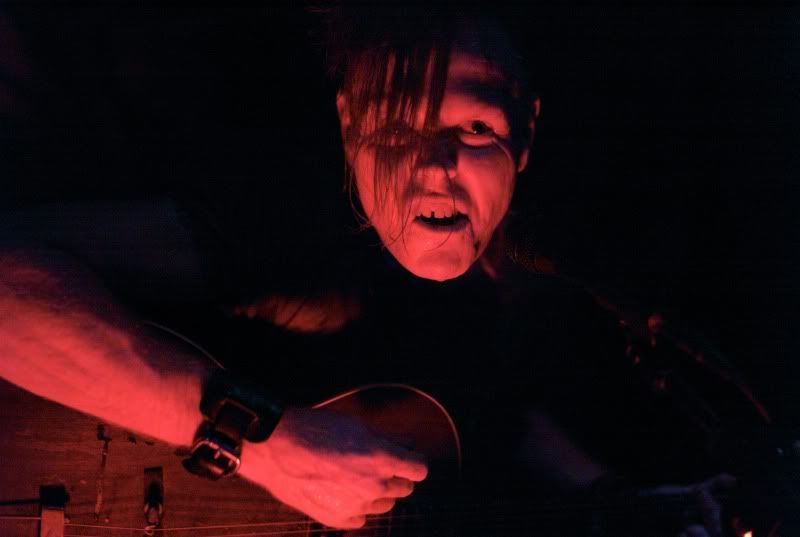 "There is no country music, so how could there be outlaw country?"
- Joe Buck
Prologue:
I've got a couple beers down and a half pack of Pall Malls. The club already has a hazy atmosphere of cigarette smoke, I notice, walking towards the merch boothes. With beer arrogance I walk up to Joe Buck Yourself's counter and ask the woman behind it if I could interview Joe Buck. She said, "Totally..." or "Yeah..." or something the band, the Good Ole Country Boys or GCB for short, was playing loud as fuck. They're a country band whose bassist wears a Pantera shirt and a drummer whose too old to be coked up so he just plays that way. Its awesome. The woman behind the Joe Buck's booth ended up being his wife. She beckoned me over to where Joe Buck, almost in disguise, is watching the band and smiling like a child. Say anything you want about Joe Buck, the man loves Country music, and God bless him. After they finish we depart the club into the 30 degree chill that has past over North Texas. I'm in Fort Worth in the parking lot of the Railhead on February 13th 2011 climbing into Joe Buck's new ride. He's since upgraded from that mythic old Winnebago.
"It gets eighteen miles per gallon" slapping the hood as we pass by. Part pride, part parody.
We settle in and I speak with him for a few hours about Country music, Fear (the band), global warming, and spirituality. Joe Buck has a way of speaking that's faster than any southerner ought to allow, but the man never wastes a word either. Joe Buck is more than a musician, he's a philosopher with a message. Joe Buck is trying to stop the Apocalypse.
We need Joe Buck.
Interview:
JOE BUCK INTERVIEW by Acolyte-BSA
Epilogue:
Theres a knock at the trailer door and Joe Buck's wife asks if he got her text message and Joe Buck says "No". Apparently the last band had finished a little while ago. Whoops, its midnight. There are rushed good byes and thank yous. Back in the club Joe Buck is ready to play in a quite literal flash. Immediately he dives into a half improvised set with a big chunk carved out in the middle that was all awesome covers. I've seen Joe Buck three times and he always manages to top himself, but this show was truly exceptional. He is an expert at working a crowd, a skill I imagine he picked up as a street performer in Nashville. Tonight I feel is a little bit more selfish, all the covers where of Texas Country artists like David Allen Coe and Waylon Jennings. His music is a labor of pure love and you can see it when he plays.
Buy his records, watch him play.
Joe Buck is coming to YOUR town.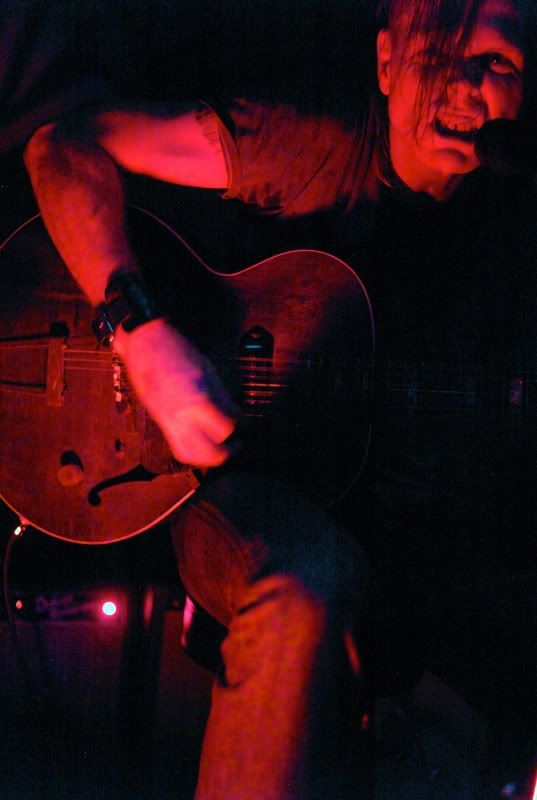 Feb 25 Twain Harte, CA @ Lupita Eproson House
Feb 26 San Francisco, CA @ Thee Parkside
Mar 2 Santa Cruz, CA @ Crepe Place
Mar 3 Chico, CA @ Lost on Main
Mar 4 Sacramento, CA @ The Blue Lamp
Mar 5 Reno, NV @ The Alley
Mar 6 Salt Lake City, Utah @ Burt's Tiki Lounge
Mar 10 Gunnison, CO @ Gunnison Brewery
Mar 12 Kearney, NE @ The Garage
May 18 Lexington, KN @ Buster's Billiards and Backroom
May 19 Memphis, TN @ The Hi-Tone Cafe
May 20 New Orleans, LA @ One Eyed Jacks
May 21 Austin, TX @ Red Seven
May 22 Tulsa, OK @ The Marquee
May 25 Denver, CO @ Thee Kings
May 26 Kansas City, Missouri @ Davey's Uptown
May 27 Chicago, IL @ Brauer House
May 28 Cleveland, OH @ Beachland Ballroom
http://www.myspace.com/joebuckyourselfmotherfucker/shows