This is old news (like a couple months) but the greatest rock and roll band of the 2000's has finally died, the Eighties Matchbox
B-line
Disaster is no more! They where a truly amazing rock and roll band that I personally believe everyone needs to check out like yesterday (that is if you don't live in places like England where they where famous). The following is an email interview with one time member Rich Fownes who played guitar for the Matchbox on the In The Garden EP (one of the greatest bursts of energy ever recorded). Rich Fownes has also played in such acts as
With Scissors
and is the frontman of
Bad For Lazarus
. So I wanna thank Rich for his time filling this out and in quite a speedy fashion as well...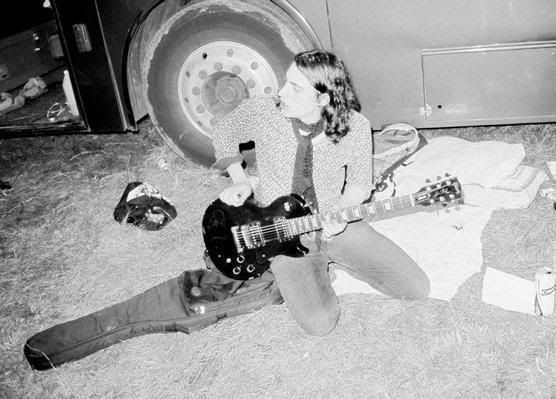 ABSA
: To setup up with, what instrument did you play for TEMBLD?
Rich
- Guitar
ABSA:
What gear did you use with TEMBLD?
Rich
- old days : Marshall JCM 2000 / Gibson SG
new days : Fender Supersonic / Danelectro DC 59
ABSA
: When did you become aware of TEMBLD?
Rich
- when Psychosis Safari came out, they were just everywhere. It was just as I was getting into old-skool punk aswell. As far as I could tell there wasn't anyone else in our country at that point that felt that real.
ABSA
: How did you start playing with TEMBLD?
Rich
- My mum knew Marc's mum. Rock is dead.
ABSA
: What was your role, if any, in song writing?
Rich
- I wrote as much as anyone. Everyone was as involved as anyone else.
ABSA
: What was your reason for leaving, if any?
Rich
- The inner workings of Matchbox were so complex and intense it would necessitate a book to explain it. Which is an idea that's been chucked around. A hundred long stories short - it was just a very dark time. I didn't feel very connected to the material we were making. That band was so important to me as a fan, and I didn't really want to be a part of the era that I would have been disappointed of, even if I weren't in the band.
ABSA
: Heard you left for NIN. How did that come about? I also heard you got kicked out? Heard you played guitar at TEMBLD last show, can you tell me how you ended up back on the axe for the Matchbox?
Rich
- When I was playing with UNKLE live we supported NIN. Trent asked me to try out, but I was asked to leave because I was too young and handsome. Due to the usual bizarre, internal dynamics, Tristan refused to play the final two shows. I was more than happy to revisit the classics with old, dear friends one last time.
ABSA
: Who are your influences as far as playing guitar?
Rich
- It changes all the time. Tonally and vibe-wise I really aspire towards Reverend Horton Heat at the moment.
ABSA
: Bands y'all listened to growing up?
Rich
- Depends how far you want to go back. My childhood was a pretty heavy regime of my mum's favourites. Billy Ray Cyrus and Whitney Houston. Shakin' Stevens when things got a little fruity.
ABSA
: Listen to any hip hop?
Rich
- yep
ABSA
: Listen to any country?
Rich
- Not really
ABSA
: Bands/Projects you've been involved with?
Rich
- I can't remember dates but chronologically : With Scissors / Eighties Matchbox / UNKLE / Bad For Lazarus / The Painted Smiles / something new I can't talk about yet
ABSA
: Who did the main song writing for the band or was it a true democratic effort? (lyrics/melodies/riffs)?
Rich
- It was a true democracy during my years. Which was probably the major mistake. It was a great idea but in reality everyone was pulling in their own direction, and I think the amount of compromises everyone felt like they allowing probably bred some resentment.
ABSA
: So over in America it seems like after the Matchbox released their first record they blew up in England and Europe and a lot of people started talking about 'gothabilly'/'psychosis rock' as if the Matchbox created or started this gothabilly scene? And TONS of bands seemed like they latched on to this sorta dark heavy fuzzed out rockabilly sort of sound soon afterward. Was/is it actually a scene over there, separate from punk, psychobilly, goth, and metal?
Rich
- They came up at the same time as The Libertines / The Strokes etc so where put into the garage-rock bracket. It wasn't untrue, but I don't think there was another band like them.
ABSA
: It seemed to me that the Matchbox could have been a lot more famous than they where and from the outside it almost appeared as if that was intentional? Was that the case? Did the members shun celebrity or did they just party too much? Or was it just bad luck?
Rich
- None of the above really. I can't explain how chaotic it was, and I wouldn't be able to pick one example anecdote over another. When I first joined, Sym said to me "the thing about this band is no more than 2 out of 5 people are ever firing on full cylinders at any one time. The more involved I became the louder that got in my head.
ABSA
: I feel like TEMBLD had been seemingly going downhill for a couple years before their breakup. I mean, you could kinda see it in Guy's face in live videos. Earlier live videos he seemed more confidant and more recent ones he looked like he was having anxiety attacks on stage. Would you agree/disagree? Explain?
Rich
- As far as I'm concerned that's a very astute observation. I don't think he had panic attacks, but I definitely felt like he was changing his act. I'm sure it was intentional aswell; he said to me that he didn't want to be 'adolescent' anymore and that kind of saddened me. I didn't think the reckless abandon was childish at all, and I missed that personally.
ABSA
: Know why Marc Norris left?
Rich
- you'd have to talk to Marc
ABSA
: Salem is way more famous in England than in Texas, where I'm from, and it seems like a lot of kids have latched onto this whole 'witch house' thing they started. Are you aware of Salem? Any thoughts about this new wave of dark electronic music?
Rich
- haven't heard of it to be honest
ABSA
: Die Antwoord is a hip hop group from South Africa thats blown up recently. Are either of y'all aware of Die Antwoord? Thoughts?
Rich
- They're fucking genius. Full flex.
ABSA
: It said on TEMBLD's facebook that all the members of the Matchbox became involved in different projects? What projects are Guy/Sym/Tom involved with (when did they start, who is in them etc etc), if you know?
Rich
- As far as I've heard Guy is working with Tom White. Tom is living in Ireland concentrating on his paintings (which are amazing!) and Sym is talking to a few people.
ABSA
: Bands/Projects we should know about?
Rich
-
Bad For Lazarus
(duh) /
Take A Worm For A Walk Week
/
Fixit Kid
/
Hawk Eyes
/
The Wander Phantom
/
Restlesslist
/
Orion Arm
/ Lakey / There's so many I feel like I'm forgetting...sorry!